Why Paint Cabinets?
The question why paint my cabinets often comes up, and to be honest, it's the best way to keep the integrity of your old cabinets. The options are endless when it comes to cabinet painting; from white to black, green and blue, there are no limits! Cabinet painting is a fast and easy way to get creative in your home. Without the difficulties of fully replacing your cabinets or even re-facing, you can get a fresh look in days!
Trends come and go in kitchens, and what were once earth tones and dark styles are now whites, blues, and greens. Fresh and colorful looks are becoming popular and are easier to accomplish than you think, only taking a few days. Among other colors, the crisp look of a white kitchen is welcoming and offers a versatile base for the rest of the design of your kitchen. Read our blog on white cabinets to learn more. More popular than staining, painting is easy and a cost-efficient way that allows you to get creative.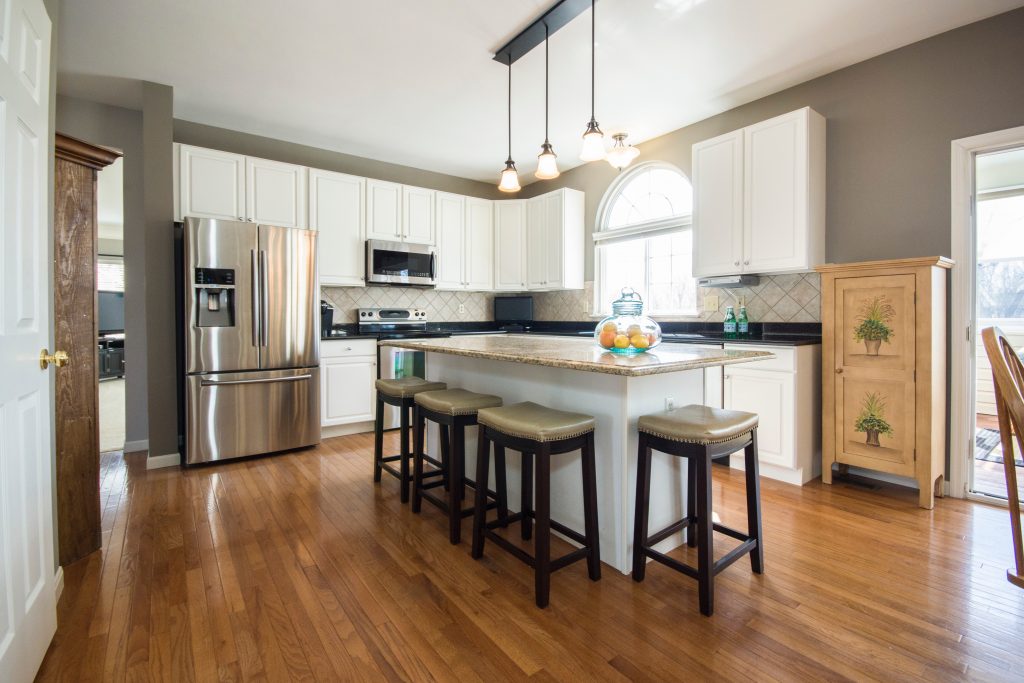 Why Not Stain?
Changing stain colors of cabinets is not really an option. You can go down a very labor intensive path of stripping and staining, but this may end up being costlier than you wish for the outcome. Unlike with paint, for a stain to work, the whole surface needs to be stripped well to get an even coat. Between the harsh chemicals, being a costly process, and fear of not getting the desired outcome, painting is a safer route.
By doing a gel coat or staining, you'll get uneven wear. Essentially, the cabinets will look worse than what you began with! With these processes, there is nothing to bond the finish to the cabinet. Maybe you'll choose to do this if you're selling a home (which will be torn apart once you move out), but if you plan on staying, this is not the best solution. Be aware of what you're getting yourself into if you plan to strip and stain. If you're looking to give new life to your existing cabinets, painting is a sure way to get a fresh update!
Cabinet Re-facing?
Re-facing cabinets often comes into question, but the reality is that you might as well replace the cabinets altogether when you consider the cost. You will have fresh wood to work with, and you might even consider changing up the design, but in the end, full replacement makes more sense. Again, painting is the economical route and allows room for creativity.
We have painted black, gray, and even the occasional blue kitchen. We welcome any color under the sun! Although, to this day, white cabinets seem to be the most common projects. White cabinets will withstand time, and if done correctly, will last for years to come.
No two projects will ever be the same, therefore, the costs will vary. We take the type of wood, number of doors and drawers, and configuration into consideration. For example, when painting oak cabinets more coats are required. Every step is a contributing factor making the end result. All the way from the process of stripping to the primers used and the number of coats, the process is important. We have expert painters on staff to answer any, and all, of your questions!
If you're ready to freshen up your home, contact us! Schedule a free estimate today and rid yourself of your outdated kitchen. Don't underestimate what a paint job can do for your home!